Both the Flemish and Walloon legislation in terms of swimming pool building permits will be covered!
The general rule regarding building permits suggests otherwise. This rule states that you cannot erect, place, break down, rebuild, refurbish or extend any construction. So basically, the construction of an outdoor swimming pool is prohibited without a permit.
And yet this is not entirely true! Because in Flanders there are a number of exceptions to this requirement.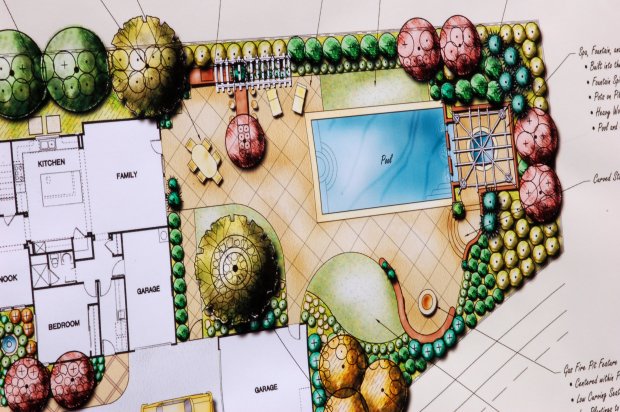 So I should still request a building permit to put a swimming pool in the garden?
Since 1 December 2010, you can get an exemption under certain circumstances to build an uncovered construction up to 80 m² in your side or back garden. But watch out! These 80 m² should include the already existing uncovered construction, which could be a terrace, a fish pond, existing swimming pool, etc.
In Flanders you can get an exemption under certain circumstances:
The construction must remain more than 1 metre away from the plot boundary
The construction must stand less than 30 metres from the residence
The construction may not be located in an environmentally sensitive area
The construction may not be built in a riparian zone, inside the boundaries of a water-basin or sub-basin management scheme, or within the five-metre wide strip along the banks of a watercourse.
As long as your swimming pool plans meet these conditions, there is no need for you to have a building permit, because the construction of your pool is not allowed to be in breach of the following:
Local plans (municipal spatial implementation plans, special construction plans)
Regulations regarding subdivision permits.
But there is an exception here too. Your council has the ability to create a list with plans and subdivision permits inside which the exemption regulation does apply, even if this is contrary to the plans or the subdivision regulations in question.
The following example may shed some more light on this exemption: for years, the Peters family has been dreaming of having a pool in their garden. At the moment they have a small landscape pond of 15 m² and a 20 m² terrace. Their plans include building a swimming pool of 45 m². Since 15 + 20 + 45 equals 80, they can build their dream pool without needing a permit.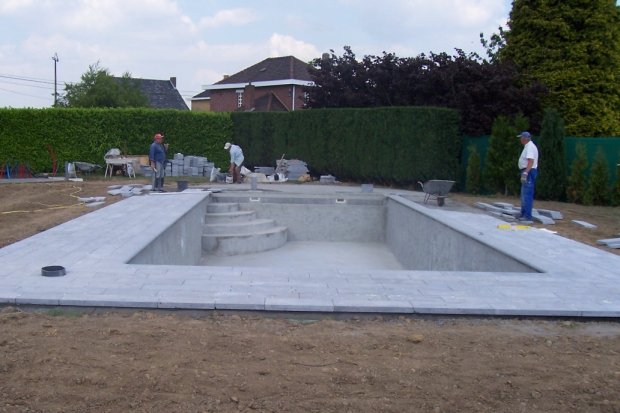 Conclusion: In Flanders, you generally won't need a permit if you want to build an outdoor swimming pool. If in doubt though: always go to the municipal service for spatial planning for specific information. The staff there are always willing to help you and this way you can be 100% sure!
Do I need a building permit in Wallonia though?
Belgium wouldn't be Belgium if the regulations in Wallonia were not different from those in Flanders. In Wallonia you don't have to take the exceptions mentioned above into account; the permit requirements in Walloon municipalities depend on the surface area of the swimming pool and on the location and position of the pool and the house in relation to the public road.
Is your house positioned parallel to the road and will your swimming pool be placed behind your house and parallel to it? Then you won't need a building permit to place a pool in your garden with a water surface area of less than 50 m².
Is your house not positioned parallel to the road or would you like to build your pool differently or in a different position? Then what you will need is a simplified building permit.
The permit request is applicable to various situations, for instance when a lane or crescent leads to the house, when a swimming pool is built at the back of the garden or when the pool is positioned perpendicular to the house. Again, we would like to recommend that you first inquire with your municipal services for spatial planning before going ahead.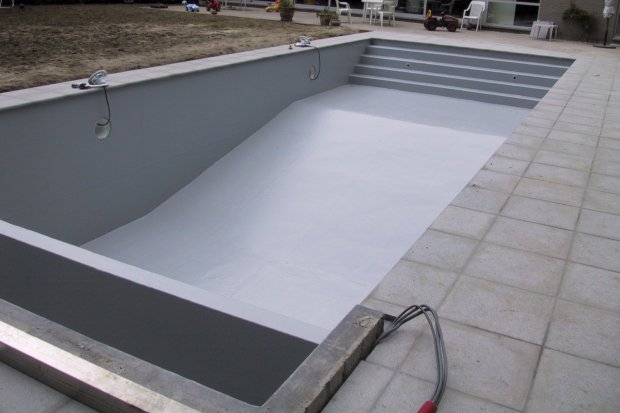 Is an architect required when building a swimming pool?
In Flanders it's actually relatively simple.
When you do not require a permit for the swimming pool, there is also no need to hire an architect to design it. If a permit is necessary, however, you do require an architect if one of the following conditions applies:
The construction in the garden will be larger than 150 square metres
The construction is positioned less than 2 metres from the garden boundary and buildings.
You can find more information about application forms on this website: http://www.ruimtelijkeordening.be/NL/Beleid/Vergunning/Vergunningnodig/Openluchtzwembad
Please note: in certain municipalities you have an obligation to report any construction, even when a building permit is not required. To be sure, always check with your local council.