A good pH level in the pool is essential for a pleasant swimming experience. Too low a pH level makes the water acid and can have adverse consequences.
To illustrate the importance of regular water checks, the potential consequences of too low a pH level are listed below.  The pH level is too low when it falls below 7.0 pH.
Consequences for the water
Too low a pH has a significant influence on the effect of the chlorine. If the pH level is too low, you will have to add a large amount of chlorine to ensure proper disinfection of the water. A good pH level will therefore also benefit your wallet.
If the pH level becomes too low, it may also cause the water to turn brown to black, which is not attractive to swim in!
Consequences for the pool
If the pH level is too low, the water becomes acid. This acid water can cause corrosion on the heat pump, thereby reducing its service life.
The pH level of the water will also roughen the mosaic in the long term. This will put a great strain on your beautiful tiles. As the mosaic tiles become rougher they will also promote algae growth, which should be prevented at all costs. 
Consequences for swimming gear and swimmer
Too low a pH level in the pool may cause those typical red eyes and even itching. It makes for a less pleasant swimming experience. Softer water, with a higher pH level, is much more pleasant!
The acid water will also adversely affect your swimming gear.  Swimwear will wear faster and, over time, become subject to bleaching.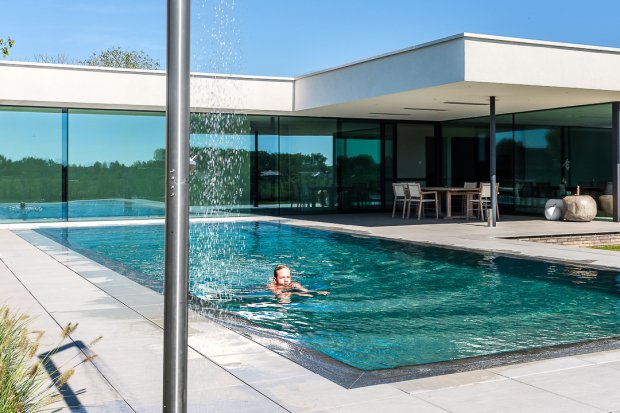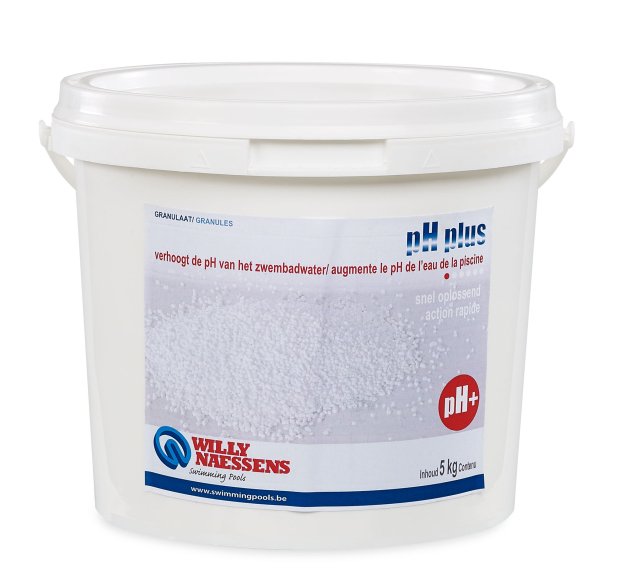 Solution for too low pH
The solution for too low a pH level is simply to add pH plus to the swimming pool.  Depending on the current pH level, you need to add a certain amount of pH plus. The recommended dosing schedule is typically indicated on the packaging.
To measure the correct pH level, you can use a variety of test kits or strips. Digital units do the analysis for you. For test strips, you have to rely on your eyes, which makes them less suitable for people who are colour blind. The best, but also by far the most expensive, solution is a fully automated pH and chlorine dosing system.
The choice is yours!